Login
Log in if you are a member of The Insiders with an account.
Dont have an account? Register
Self-Expression Through Product Pairing
11 Oct 2023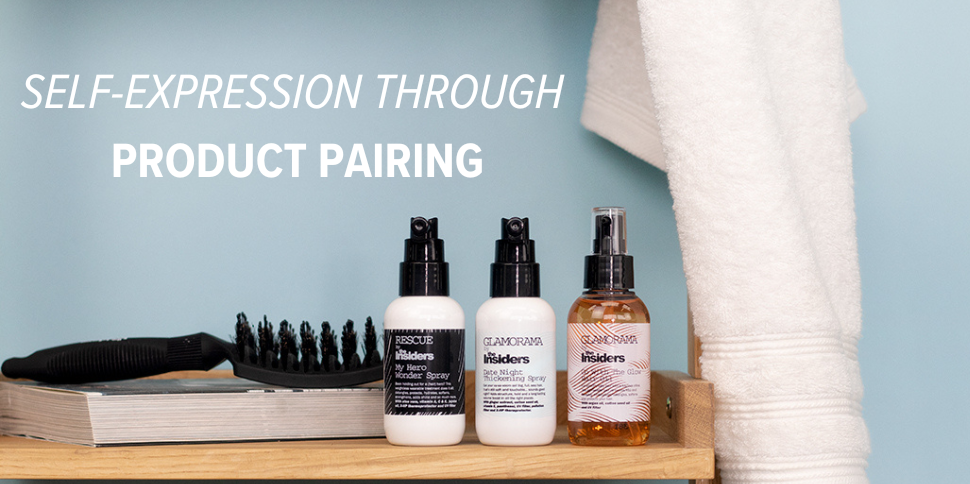 Have you ever considered mixing hair products? The art of mixing hair products opens the door to endless inspiration. One of the most exciting aspects of product pairing is the creative freedom it offers. It also allows you to discover new solutions and gain a fresh perspective on haircare and styling. Mixing products enables you to put a personal stamp on your hair routine and style.
For instance, you can experiment with your hair's texture and shine by combining different styling products. Whether you're aiming for a matte, glossy, or tousled look, mixing products might grant you newfound control over your locks.
Or perhaps you want to make a statement with your hair? Try blending various products to achieve unconventional and bold styles. Let your creativity run wild and craft your own signature look.
You can draw inspiration from various sources, including professional hairstylists, social media, and even other cultures. Experiment with new techniques and effects to keep your haircare routine exciting.
For instance, if you want to create loose, shiny beach waves (a bit challenging, right?), mix a beach spray with an ultra-light oil for those perfect, glossy waves. The "Dip in the Ocean Beach Spray" and "Go with the Glow Hair Oil" are perfect for this.
Of course, you can also pair and mix other products with each other. There are perfect combinations to achieve specific looks. Here are some more examples of products you can pair perfectly or even mix together:
Solving Hair Problems
Mixing and pairing hair products isn't just fun; it can also be an effective way to address hair problems. If you struggle with oily roots and dry ends, mix a gentle cleansing shampoo like the "Guardian Mineral Shampoo" with a nourishing conditioner to tackle both issues simultaneously.
In summary, mixing hair products unlocks a world of self-expression, inspiration, and personalized hair care. It allows your hair to shine while solving common hair issues, all while enjoying the freedom to experiment and create.
If you'd like to know the best ways to use these combinations, please don't hesitate to contact us at [email protected] or via WhatsApp at +31658755292. We're here to assist you!