Login
Log in if you are a member of The Insiders with an account.
Dont have an account? Register
4 tips to keep your hair healthy in summer
08 Jul 2022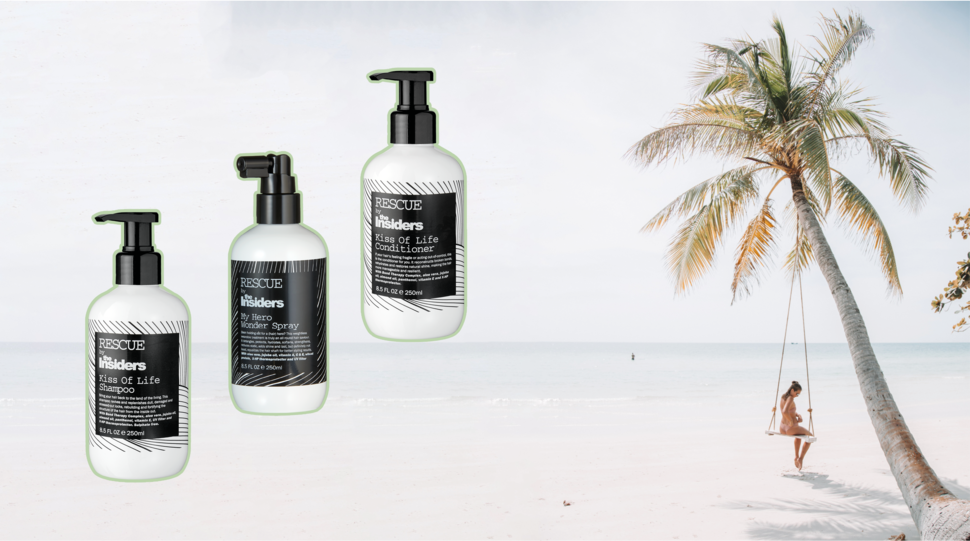 Sun, sea, the pool… These are the summer essentials that make us smile! But did you know your hair doesn't get too happy from these things? After your holiday, you might find yourself  stuck with dry, frizzy and damaged hair. Not quite the way you want your holiday to end! Don't worry: with our hair tips you'll be prepared for a summer of healthy, happy hair.
  Protect your hair from the sun  



Protecting your skin from the sun is a no-brainer. But protecting your hair from the damaging effect of UV radiation is also very important. UV radiation dries out the hair, leaving you with dry, dull and frizzy hair at the end of summer. Luckily, you can prevent this by using a leave-in spray with UV filter, like the My Hero Wonder Spray. Whenever possible, our products are enriched with a UV filter, so chances are your favourite products already provide protection.
Moreover, UV radiation also dulls down dyed hair. So if you're rocking a dyed 'do, it's extra important to protect your hair. Still stuck with a lifeless colour at the end of summer? Bring it back to life with a colour mask.
  Prevent dehydrated hair when swimming in the sea 
The sun is not the only thing that dries out the hair in summer. Because of the high salt concentration, seawater also causes dehydration. While a beach look can be gorgeous, you don't want to damage your hair. So, before hitting the shores, wet your hair using tap water. That way, your hair will absorb tap water instead of seawater. After swimming in the sea, your hair could use some extra love in the form of hydration. Our Kiss Of Life Shampoo and Conditioner are cut out for the job: these products repair damaged hair from the inside, making your hair stronger and nicely hydrated.
By the way, our RESCUE shampoo, conditioner and spray are also come in travel size, so you can take them with you wherever you go this summer!
  Green hair after visiting the swimming pool? No thanks!  
Yes, it's true: water from the swimming pool can turn your hair green. While chlorine is often blamed for that, it's actually copper (from the waterpipes) that turns the hair green. Especially when your hair is bleached, you're prone to getting this unwanted hue. When bleaching the hair, red pigments are removed, so there's nothing left to neutralize the green colour. To prevent this, you can do the exact same thing as when visiting the beach: wet the hair with tap water before entering the pool and give your hair some extra hydration after swimming.
  After Holiday Rescue Treatment  
Is your hair still damaged when returning home? Don't worry and stay away from the scissors! When hair is damaged, the sulfur bridges inside of the hair are broken. Those sulfur bridges are the thing that keeps your hair strong and shiny and with the right treatment, they can be repaired. With our team of professionals, we developed the Bond Therapy Complex that's able to restore sulfur bridges. The Bond Therapy Complex is added to our Rescue treatment and it makes your hair healthy, shiny and stronger than ever. Click here to find a salon near you that provides this treatment.
Happy hair = happy you, so let's make this summer a good one by preventing damaged hair. Shop all RESCUE summer essentials here.