Login
Log in if you are a member of The Insiders with an account.
Dont have an account? Register
This is the right way to brush your hair
25 Jan 2023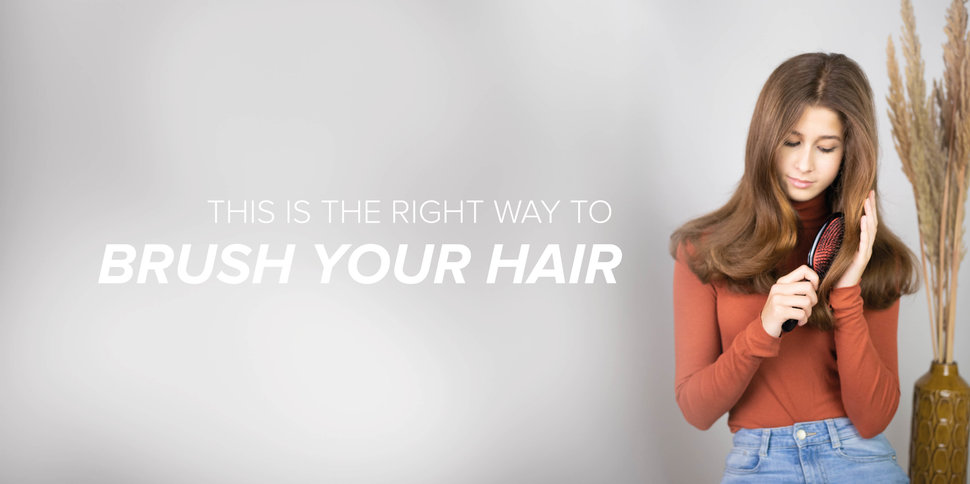 Wait, is there I wrong way? Yes, there is. When brushing your hair the wrong way, you can cause breakage and damage, and we don't want that! That's why we've got four tips on how to brush your hair the right way.
 START BRUSHING FROM THE ENDS INSTEAD OF THE ROOTS 
The most common mistake when brushing hair is starting from the roots. If you start brushing from the roots, you'll push all small knots down in one big not at the bottom. Not only is this big knot harder to comb out, it will also cause damage and breakage. So always start brushing at the bottom and work your way up to the roots. This way, you'll not only reduce damage, but also pain.
 USE THE RIGHT TOOL TO DETANGLE 
Not every brush or comb is suitable for detangling your hair. A tail comb or combs with small, closely placed teeth are not suitable for detangling the hair. Instead, use a brush that's specially made to detangle, like the Flat Brush. This brush has extra long, single nylon pins that give just the right amount of grip for effective brushing without pulling or snagging. It also contains boar bristles (obtained in a cruelty free way) that make the hair look nice and shiny.
 DON'T BRUSH YOUR HAIR WHEN IT'S WET 
Brushing your hair while it's wet is a bad hair habit you need to break if you want healthy, happy hair. When your hair is wet, it's at its most vulnerable. So if you brush it when it's wet, you're very likely to damage the hair. Instead of brushing your hair when it's wet, it's best to brush it before you get in the shower. While applying shampoo and conditioner, carefully detangle the knots that may have formed while showering. After that, wait 'til your hair is dry before you touch your brush. Your hair will thank you for it!
 USE A SPRAY THAT HELPS TO DETANGLE YOUR HAIR 
Did you know that there are special sprays that can help you detangle your hair? Especially when your hair tends to get very tangled, or when you get out of bed with severely tangled hair, this kind of spray is a must-have for your hair routine. The spray will make it easier to get the knots out, so you'll have to do less pulling and snagging, thus causing less damage. The My Hero Wonder Spray not only helps with detangling, it also reduces static, protects the hair from UV-rays and heat, hydrates, strengthens, adds shine and e the hair shaft for better styling results.