Login
Log in if you are a member of The Insiders with an account.
Dont have an account? Register
Say goodbye to these 7 bad hair habits
06 Jan 2023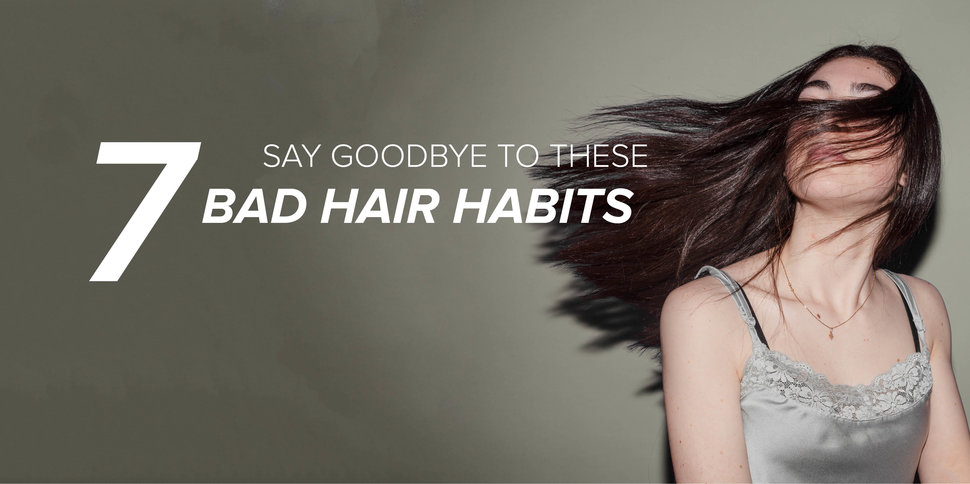 New year, new hair, new me! This year is going to be the year of strong, shiny and gorgeous hair. And you don't need to spend hours on accomplishing that. All you need is to say goodbye to these 7 bad hair habits and your hair will be prettier than ever!
 1. BRUSHING WET HAIR 
When hair is wet, it's at its most vulnerable. If you brush your hair while it's in that state, you can easily damage your hair and we don't want that. Instead of brushing wet hair, make sure your hair gets tangled at least as possible in the shower. While applying shampoo and conditioner, gently untangle the hair with your fingers. After that, all you've got to do is wait until it's dry, brush it and your hair will thank you!
 2. GO TO BED WITH WET HAIR 
Okay, so wet hair is vulnerable. That means when you go to bed with wet hair, all the tossing and turning you do overnight can damage the hair. So, whatever you do, don't go to sleep when your hair is still wet. Instead, you can create healthy, beautiful hair overnight -yes, it's possible!- with our sleeping beauty routine.
 3. USE A REGULAR TOWEL TO DRY YOUR HAIR
While a regular towel is fine when it comes to drying off your body, it's best not to use it for your hair. A regular towel is made of tiny loops of cotton, which gives it a relatively rough feel. This causes friction and that damages the vulnerable, wet hair, so rubbing your hair with a towel is a big no go. Also, because of the structure, a cotton towel extracts a lot of moisture in a short period of time, causing dry, frizzy hair. Instead of a cotton towel, opt for a 100% microfiber one, like our Curl Coach Anti-Frizz Towel. Microfiber has a fine structure, making this fabric way more gentle on the hair while drying the hair without drying it out.
 4. SPEND TIME IN THE SUN WITHOUT PROTECTION 
We all know how important it is to protect your skin from the damaging effects of the sun. But did you know your hair needs that protection just as much? Uv-rays dry out the hair, thus damaging it and making it look dry, dull and frizzy. In order to get healthy, happy hair, don't spend time in the sun without protecting your hair with a leave-in spray containing a uv-filter, like the My Hero Wonder Spray.
 5. NOT USING A HEAT PROTECTOR 
Okay, we're staying on the topic of heat. Because not only the sun, but also heat tools, like a blow dryer, curling iron or a straightener, can dry out and damage the hair. So, when you're using these tools to create a cool 'do, always use heat protection. All of our products -if applicable- contain a heat protector and uv-filter, so chances are your favourite Insiders products already provide you with the necessary protection.
 6. TEASING THE HAIR
We love volume! But we don't love damaged hair. All the volume, but no damage: that's what we want! And teasing your hair doesn't go with that. When backcombing your hair, your hair can break and get damaged. So instead of backcombing, use the Teaser Styling Dust. This little miracle in a bottle adds texture, grip and lifts and thickens the hair at the roots, giving you an instant volume boost. Just like you teased your hair, but without the damage.
 7. NOT PROVIDING YOUR HAIR WITH ENOUGH TLC 
You may not think so, but even healthy hair needs a little TLC every now and then. To keep your hair shiny, happy and healthy, treat it to a nourishing conditioner or a caring hair mask every now and then. You'll see your hair will only get more gorgeous!