Login
Log in if you are a member of The Insiders with an account.
Dont have an account? Register
Sleeping beauty routine: How to keep your hair healthy while sleeping
06 Dec 2022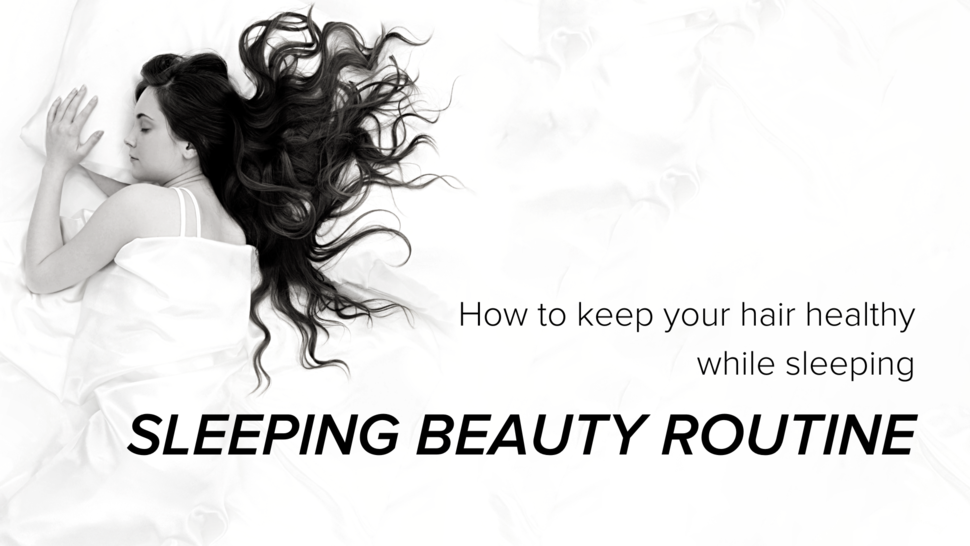 Getting healthy hair doesn't happen overnight? Well, we disagree! With our six tips you'll get healthy, happy and gorgeous hair while you sleep.
 WEAR YOUR HAIR UP WHILE SLEEPING 
While you can't prevent moving around when you sleep, you can prevent damaging your hair while doing so. Moving around in your sleep creates friction between your hair and your pillow, causing damage, breakage and tangles. When wearing your hair up, you reduce friction, and so you reduce damage. So opt for putting your hair up at night, or put it in a braid to wake up to gorgeous natural waves.
Fun fact: sleeping with your hair up also benefits the facial skin. Because your face will have less contact with the oil in your hair, you'll be less likely to get pimples.
 … BUT DON'T PUT TO MUCH STRAIN ON YOUR HAIR 
Putting your hair up in a tight bun is not only uncomfortable, it's also bad for your hair. Especially when wearing your hair up tight for a long period of time, like when you're sleeping. When your hair is pulled tight, there's a lot of strain on the hair and there is a chance that your hair could fall out. That's called traction alopecia.
Also opt for using a soft, preferably satin, scrunchie instead of a regular band. This will cause less pressure and friction, and prevents damage by doing so.
 NEVER SLEEP WITH WET HAIR 
Wet hair = fragile hair. When you sleep, you twist and turn, and this damages the hair, especially when it's wet. So, never go to sleep when your hair is wet. A bit of an exception is when you're using a hair mask that you have to apply when your hair is towel dry. When your hair is severely damaged, you can use a hair mask (like our Bond Therapy Weekly Treatment) and leave it in over night. Apply the mask, tie your hair up in a loose bun or braid and go to sleep. Next morning, rinse your hair and you'll see that your hair has gotten a major health boost.
 USE A SATIN PILLOWCASE 
When sleeping, friction is the main cause of damage. Friction can damage the hair by causing breakage, dehydration and it can make the hair feel stiff. That's why it's time to say goodbye to your cotton pillowcases and replace them with silk ones. Silk fibers are less rough than cotton fibers, so they generate less friction. And where cotton absorbs the natural oils found in your hair and dries it out, satin does not and acts like a barrier. This way, satin prevents split ends caused by hair drying out and makes sure your hair maintains its moisture. Satin is a real gamechanger!
 CHANGE YOUR PILLOWCASE REGULARLY 
Okay, we can think of many reason why you should change your pillowcase regularly and your hair is one of them. The sebum, dandruff and sweat you lose at night ends up on your pillowcase, and this will end up in your hair when you lay on it the next night. This can make your hair greasy and we don't want that!
 QUICK FIX FOR WHEN YOU GET OUT OF BED WITH STIFF AND TANGLED HAIR 
We get it: you can't take your satin pillowcase everywhere and you will forget to tie up your hair some nights, just like you sometimes forget to take your make-up off (we've all been there). Luckily, there's a quick fix for the mornings you wake up with stiff, tangled hair. The My Hero Wonder Spray is a leave-in spray that contains aloe vera and jojoba oil, making your hair soft, hydrated and easy to comb through in seconds.