Login
Log in if you are a member of The Insiders with an account.
Dont have an account? Register
Go with the Glow: Discover the Magic of Argan Oil and Cottonseed Oil
28 Sep 2023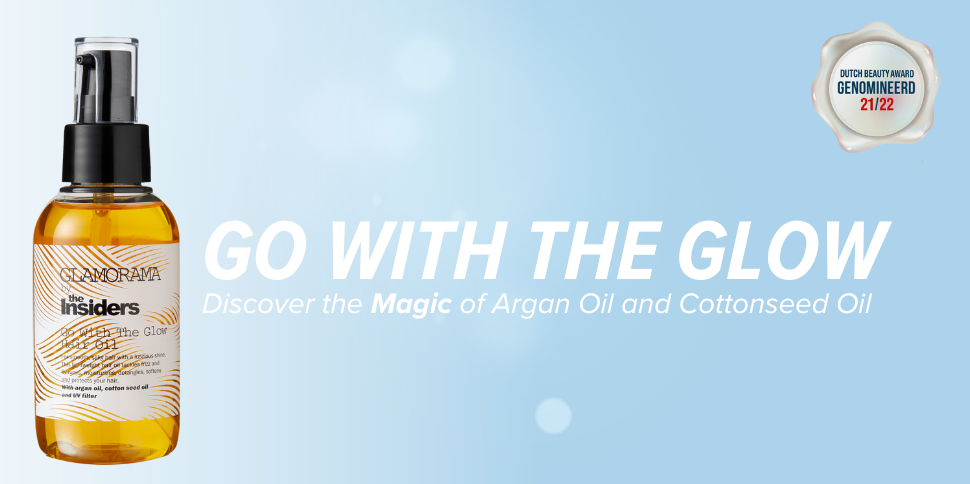 Your hair deserves the best, and when it comes to hair care, natural ingredients are the key to shiny, healthy locks. The Go with the Glow Hair Oil from The Insiders is a true treat for your hair, and the secret lies in two extraordinary oils: argan oil and cottonseed oil.
Let's delve deeper into the benefits and scientific facts behind these miraculous oils, as well as take a look at the UV filter added by The Insiders' hair stylists in the formula. The formula, by the way, was nominated for Beauty Product of the Year in 2022 at the Dutch Beauty Awards!
Argan Oil: A Treasure from Morocco
Argan oil is known as "liquid gold" and is extracted from the nuts of the argan tree, which only grows in Morocco. This oil is packed with vitamin E, essential fatty acids, and antioxidants, making it a powerful ally for your hair.
Scientific Facts: Studies show that argan oil can improve the hair's structure by repairing damaged cells, leaving the hair smoother and stronger. Furthermore, it deeply hydrates and reduces frizz, making your hair feel silky smooth.
Cottonseed Oil: The Gentle Force
Cottonseed oil is extracted from the seeds of the cotton plant and is known for its light, non-greasy texture. This oil is rich in vitamin E, omega-6 fatty acids, and antioxidants, making it ideal for hair care.
Scientific Facts: Cottonseed oil has proven benefits for hair health. It helps hydrate the scalp, which can aid in reducing an itchy scalp and flakiness. Additionally, it penetrates deeply into the hair to enhance natural shine and make the hair smooth and manageable.
UV Filter: Protection in a Bottle
Why is a UV filter in a hair oil so important? UV rays can damage your hair, leaving it brittle and lifeless. The addition of a UV filter in The Insiders Hair's Go with the Flow Hair Oil provides an extra layer of protection against harmful sun rays.
Scientific Facts: Exposure to UV radiation can lead to oxidative stress in your hair, resulting in damaged hair and color fading. A UV filter shields your hair from these harmful effects and preserves the color and health of your locks.
So, why should you choose Go with the Glow Hair Oil? Because it not only nourishes your hair but also combines the power of argan oil and cottonseed oil to restore, hydrate, and protect your locks from the sun.
With scientific facts supporting the benefits of these ingredients, you can confidently unveil the natural beauty of your hair.