Login
Log in if you are a member of The Insiders with an account.
Dont have an account? Register
Fine vs thin hair: what's the difference and how to style it
08 Dec 2022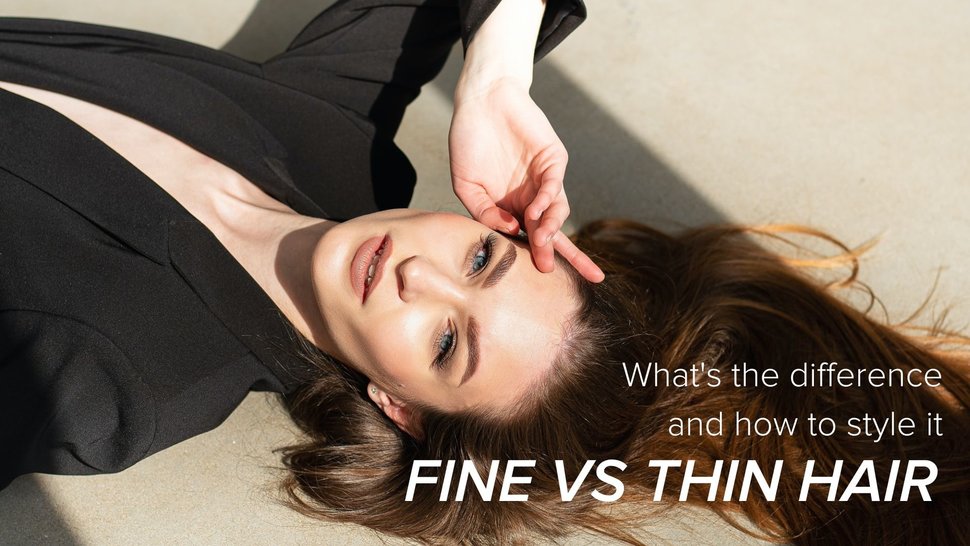 Sad but true: not everyone is blessed with a full 'do and thick, luscious locks. While there's nothing wrong with thin and fine hair, it can be hard to create a voluminous look when that's what your hair is like. Did you know that there's a difference between thin and fine hair? We will tell you all about that so you can find out if your hair is thin, fine or both and we'll share our tips on how you can achieve a voluminous, full look.
 THE DIFFERENCE BETWEEN FINE HAIR AND THIN HAIR 
It's a common misconception that fine hair and thin hair are one and the same. Fine hair means the diameter of the individual hair is thin. Thin hair refers to the density; the amount of hair you have on your head. If the density is relatively low, you've got thin hair. You can either have fine or thin hair, or both. If you've got fine hair but the density of your hair is high, your hair will still appear full despite your individual hairs being fine.
 HOW TO MAKE THIN AND FINE HAIR APPEAR FULLER 
While thin hair and fine hair are two different things, the advice on how to create full, voluminous hair with these types of hair is one and the same. So no matter if you've got fine hair, thin hair, or both, with our hair hacks you'll be able to rock that dreamy, voluminous 'do!
Avoid using heavy products that can weigh the hair down. Instead, use a lightweight shampoo and conditioner, like the Daydream Volume Shampoo and Conditioner. Apply the latter only to the mid-lengths and ends of your hair.
Unfortunately, there's no magic potion that can make your head grow extra and thicker hair. But with the Supernatural Thickening Cream you'll get as close as you can get. This cream contains wheat protein, which encapsules each individual hair, making it appear thicker and fuller. Apply to the roots (and to the mid-lengths and ends if you've got both thin and fine hair), blow dry your hair and there you go: your hair looks way thicker and fuller! This effect may not be permanent, but if you add this cream to your everyday routine, no one is going to know that your full mane isn't exactly what mother nature gave you.
Another product that makes your hair appear thicker and fuller, is the Date Night Thickening Spray. Just like the Supernatural Thickening Cream, this product makes your hair appear fuller.
Did you know that there are dry shampoos out there that not only reduce the greasiness but also add body and texture? If you are a dry shampoo junkie just like us, you'll love the Hustler Texturising Dry Shampoo. This will make you hair appear cleaner, fuller and voluminous.
Thin and fine hair tends to look flat. For a quick fix, you can use the Teaser Styling Dust. This little wonder in a bottle thickens your hair at the roots, giving you an instant volume boost.