Login
Log in if you are a member of The Insiders with an account.
Dont have an account? Register
Facts & Do's and Don'ts for curly hair
09 May 2023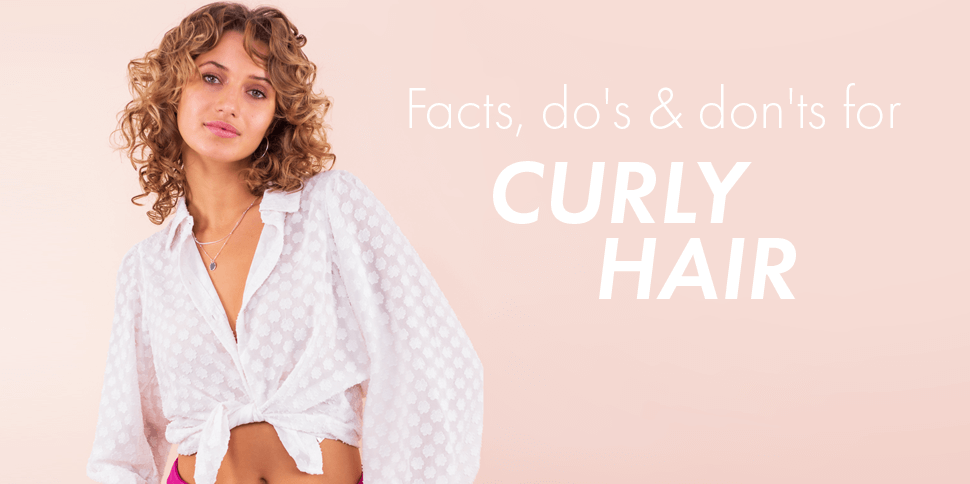 Are you also blessed with a beautiful curly forest or naturally wavy hair? And have you ever wondered why one hair curls and the other hair doesn't? Then read on because we have some fun facts and Do's and Don'ts for curly hair.
In principle, every hair has the same texture of origin. The fact that you got your beautiful curly forest has to do with 2 facts:
The shape of your hair follicle, your hair grows out of your scalp in a certain way because of this shape.
The keratin (building blocks) of your hair are irregular. That's nothing crazy, but because of that they make different connections with each other, which gives a curl or blow to your hair.
Like it or not, it's genetically determined by our ancestors!
To make your curls look fabulous, here are some tips on what you should and shouldn't do so that you can experience your 'Curl Crush' every day. The starting point is that you always moisturize curly hair sufficiently, give curl definition and ensure that the bounce is optimal.
Do: Give your hair extra love in the form of smart care.
Curly hair always needs extra care. First of all, use a good moisturizing shampoo that also activates the curl. The Bring the Bounce Shampoo is most suitable for this. After washing you use a conditioner with curl activation and preferably an intensive mask once a week. The Bring The Bounce Conditioner and the Me My Curl and I Hydrating Mask are the best products to use here.
Do: Use your styling products in towel-dried hair.
Yes, you heard that right, preferably right after you just got out of the shower and carefully dabbed it dry with the towel. Careful because you want to protect the hair cuticles as much as possible. This prevents your hair from getting frizzy. It is best to use a Curl Coach Anti Frizz Hairtowel for this. Then gently knead the product into your hair and choose between the following two options;
You let it air dry or…
You use the Curl Coach Anti Frizz Hairtowel after you have used the styling product and allow all moisture to be absorbed by the Hairtowel in a few hours. When the hair is dry and the styling product is well absorbed by the hair, you get beautiful curls that are bouncy and well hydrated.
Do: Find the perfect mix.
Every curl has different needs, try to find the perfect mix of styling products. Sometimes a mix of styling products can do wonders for your curly hair. Our customers have had the best experiences using a little Curls Best Friend Styling Mousse in combination with the Velvetine Styling Cream (our best-selling product). This gives you beautiful soft and long-lasting curls with a beautiful curl definition and a lot of bounce.
Don't: Use a regular towel.
Friction causes frizz, so always use a microfibre towel such as the Curl Coach Anti-Frizz Hair Towel.
Don't: Overuse heat tools.
Curly hair is extra sensitive, especially to heat. Try to avoid this as much as possible.
Occasionally is of course not so bad, but always make sure you use styling products that have heat protection such as the Velvetine Styling Cream or the Curl's Best Friend Styling Mousse.
Don't: Comb/brush your hair when it is dry.
Because of its texture, curly hair is more sensitive, it damages faster and combing can lead to breakage. In addition, your hair will fluff extra when it is combed in dry hair.
So wait with that when your hair is wet and clean. It is better if you comb your hair gently with fingers or wide tooth comb after your hair has been washed and had its portion of conditioner and mask.
Please pay close attention to wet hair; each hair can have a maximum elasticity of about 25%. So if you pull too hard and your hair goes over 25% elasticity, you will notice that the hair shrinks further and you get more tangles. So always be careful and treat your hair with love.
Good luck with all the tips and if you have any questions, you know where to find us!