Login
Log in if you are a member of The Insiders with an account.
Dont have an account? Register
Curl confidence! How to embrace your curls and take good care of them.
18 Mar 2022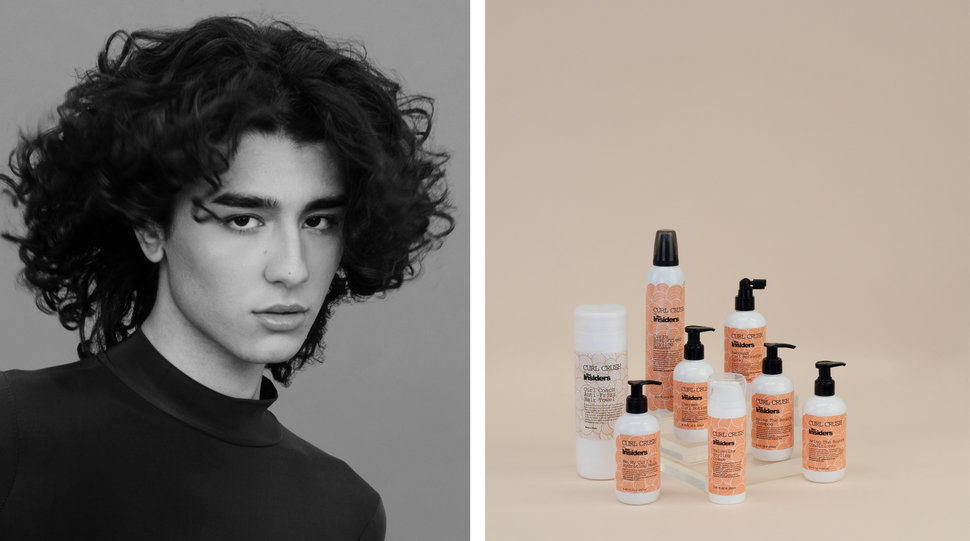 Curls come in all different kinds of patterns and shapes, with some being easier to manage than others. At The Insiders, we believe that no matter what your curls look like, they deserve to be loved, embraced, and well taken care of, just like any other hair type. Are you struggling with your curls? Don't worry, we've got you covered. Continue reading to discover some tips and tricks for the ultimate The Insiders haircare routine for curly hair.
Embrace the versatility 
Curly hair is very diverse and ranges from beachy waves to textured and kinky curly hair. This beautiful versatility means that you can be very creative with your hairstyles and experiment with different looks. From stylish updos to finger coils or braided styles, the possibilities are endless. What matters the most is that you embrace your hair and shower it with self-love, which is the ultimate key to confidence. For long-lasting definition and a non-sticky styling finish, have a look at our The Insiders CURL CRUSH Curl's Best Friend Styling Mousse. Curious what else we have in store for the curly heads? Keep on reading! 
Discover the CURL CRUSH collection 
Our CURL CRUSH collection is the ultimate product line for curly hair. Before you get into styling, always start with a deep cleansing and conditioning routine. For this, try out the CURL CRUSH Bring the Bounce shampoo and conditioner from The Insiders. The sulphate-free shampoo gently cleanses away impurities all while maintaining your hair's natural oil production, while the lightweight conditioner deeply hydrates your hair without weighing it down, leaving you with a soft, shiny, and manageable result. 
Continue with the CURL CRUSH Charmer Curl Potion for long-lasting, lightweight results and a strong, defined hold on your curls. If you're in a rush and your curls need a quick pick-me-up, look no further than the CURL CRUSH Rebound Curl Refresher Spray. This super lightweight formula will rehydrate, revive, and rejuvenate your curls and bring back that soft bounciness you're looking for. Apply onto dry hair and scrunch it for the best result. 
Natural ingredients for natural hair 
At The Insiders, we prioritize natural ingredients over everything, especially when it comes to curly, natural hair. Jojoba oil is an amazing ingredient that manages to moisturize hard-to-reach areas and balances your scalp. Natural oils tend to have a hard time with being absorbed by curly hair, but by finger-combing jojoba oil into your curls, you can get that moisture to penetrate your hair strands better. 
Up next, we have cottonseed oil, which smoothes and strengthens your hair all while adding shine, reducing frizz, and supporting scalp health by stimulating blood circulation. Last but not least, we absolutely love avocado oil because it easily gets absorbed into the cuticle and repairs your hair intensely. Avocado oil manages to moisturize your hair without making it look and feel oily or stiff, nor weighing it down. Instead, it leaves your hair looking bouncy and voluminous. 
Happy hair equals happy you 
As you learn to embrace your natural hair texture and develop the perfect haircare routine that works well for you, you'll discover this Happy Hair Feeling that we love to preach about. Treat and nourish your hair well by using the right products, dedicating some time to it, and enjoying the process. Especially for curly hair, we recommend that you introduce a weekly hair mask treatment into your routine. For this, have a look at The Insiders CURL CRUSH Me, My Curls & I Hydrating Mask to hydrate and re-energize tired, damaged or stressed-out curls. Haircare is a way of taking time for yourself and making sure that you feel beautiful, confident, and strong inside out. Always remember that happy hair equals a happy you. 
Tips to minimize frizz 
Curly hair is prone to frizz, which is why it's important that you properly moisturize it. The dryer your hair gets, the frizzier and more undefined your curls will become. Use natural oils, like the ones we introduced to you above, to seal in the moisture and keep your hair looking hydrated and shiny. When the humidity is extra high outside, The Insiders CURL CRUSH Velvetine Styling Cream has got you covered. This curl activator will combat frizz and leave you with a bouncy, soft, and natural result all while nourishing and protecting your hair. Pro tip: use an anti-frizz towel like the CURL CRUSH Coach Anti-Frizz Towel after washing your hair.
On our YouTube channel you can find several videos that show you how to use the products from the CURL CRUSH collection. Curious to see the videos? You can find them here.