Login
Log in if you are a member of The Insiders with an account.
Dont have an account? Register
5 tricks to get shiny hair
15 Dec 2022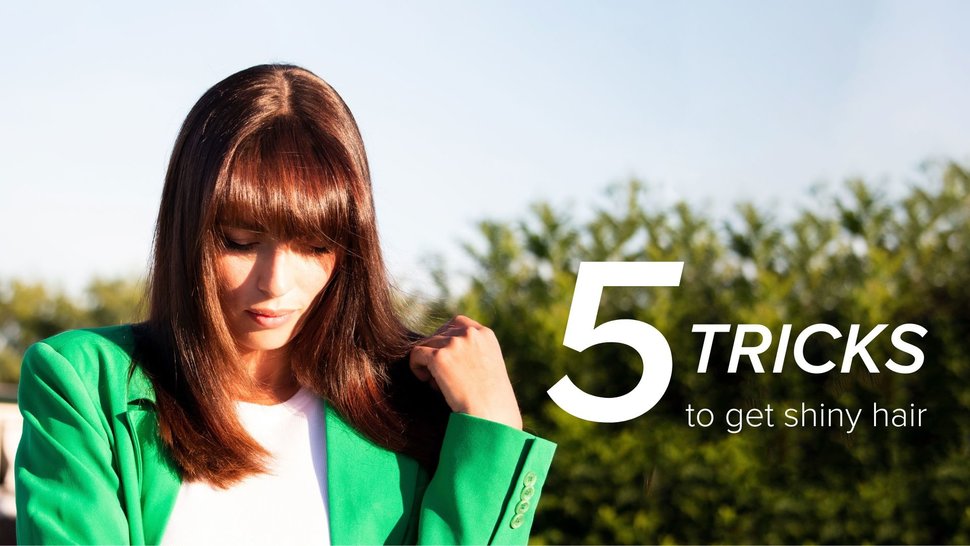 Healthy, strong and shiny hair; that's what we call hair goals! In this blog we will tell you all about the latter. With our 5 tricks you'll get the shiniest, glossiest hair of your life!
 FIRST THINGS FIRST: WHAT CAUSES SHINE? 
Before we give you our tips on how to get shiny hair, it's important to understand what causes that luscious shine. Whether your hair is shiny or not is determined by the cuticles. That's the hair's outermost layer and is made up of overlapping shingles. To make sure your hair gets shiny, you must make sure that those shingles are closed. That way, the hair can reflect light and that's what causes shine.
 1. USE PRODUCTS WITH NOURISHING INGREDIENTS 
To get that glossy shine, it's important to use the right products. Opt for products with ingredients that smoothen the hair shaft. Cottonseed oil is great at doing so. Cottonseed oil smoothens and strengthens the cuticles, making your hair shiny and frizz-free. All products in our Glamorama collection contain cottonseed oil, making them perfect for anyone who wants to create shiny hair.
 2. BLOW DRY YOUR HAIR IN THE RIGHT DIRECTION 
Let's get back to the shingles. You want them to be closed in order to create shiny hair. That's why it's important to blow dry your hair in the right direction. When blow drying your hair from roots to ends, you follow the natural direction of the shingles and that causes them to lay flat, thus creating shiny hair. To add some extra shine, finish your blow dry off with cold air.
 3. USE THE RIGHT BRUSH 
We're sure you have come across many different types of brushes. All of them detangle, but did you know that there are brushes that can boost shine too? Our High Shine Vent Brush, for instance. What's in a name. This brush contains natural boar bristles (no animals were harmed when obtaining those, we've made sure of that!) that smoothen and polish the hair shaft, and create shine. The curved shape of the brush follows the form of the scalp and gives it a massage, promoting healthy hair growth while comfortably detangling the hair.
 4. ADD HAIR OIL TO YOUR ROUTINE 
To give your hair an instant shine boost, add hair oil to your routine. Warm a few drops in your hands, apply it to your hair and there you go: Smooth and shiny hair! We want shine, but we don't want a greasy, oily look, so opt for a high quality hair oil. The Go With The Glow Hair Oil contains argan oil and cottonseed oil and adds shine to your hair, but doesn't make it greasy. It also eliminates frizz and hydrates, detangles, protects and softens the hair.
 5. DYED HAIR? USE A NOURISHING COLOUR MASK 
If you're rocking a dyed 'do, a colour mask is perfect to enhance your colour in between dyes. If you go for a colour mask that not only adds colour but also deeply nourishes the hair, you can give your hair a health boost at the same time. Our Colour Masks contain natural ingredients, like shea butter, coconut oil and sunflower extract, that hydrate and soften the hair and add a gorgeous shine. Shine on!