Login
Log in if you are a member of The Insiders with an account.
Dont have an account? Register
3 tips to make your hair colour last longer
02 Dec 2022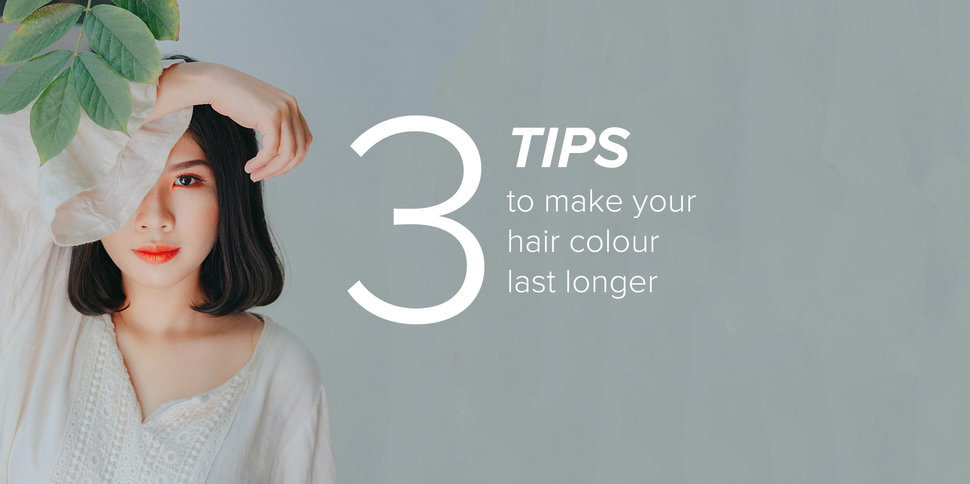 If you've got a dyed 'do, you want that pretty colour to stay vibrant for as long as possible, right? You've got fight the fade! Without three tips you'll make sure your hair colour last as long as possible.
 
 1. USE A COLOUR-FRIENDLY SHAMPOO AND CONDITIONER 
Washing your hair is one of the main causes of colour fade. But you can't just simply stop washing your hair just because you've dyed it. To make sure your colour stays lively for as long as possible, use a colour-friendly shampoo and conditioner. The Stay With Me Colour Saver Shampoo and Conditioner are free from parabens and sulfates, making them extra gentle on your coloured hair. Both products also contain the unique Colour Saver Complex, which envelopes the individual colour molecules in the hair, extending the life of your colour.
 
 2. MINIMIZE THE USE OF HEAT 
Did you know that heated tools can make your colour fade faster? Well, now you know! So, be mindfull with using heat on your hair. Try to minimize the use of your blow dryer, straightener and curling iron. Opt for heatless curls with a bath rope tie instead. Or embrace and enhance your natural texture with products like the Dip In The Ocean Beach Spray, for example. If you really can't go without your heated styling tools, don't turn the heat all the way up. And don't forget to use a heat protector. This doesn't necessarily help with preserving the colour, but it does make sure your hair stays happy and healthy, which is most important!
 3. USE A COLOUR MASK 
Unfortunately, it's impossible to completely prevent your colour from fading. However, it is possible to postpone your next salon visit. Colour masks are perfect for reviving your colour. Did the fiery hue of your red locks fizzle out? Use the Bright Copper Colour Mask to re-add copper tones to your hair. Our Colour Masks also come in Beautiful Blonde and Cool Brown, so there's a mask for everyone! These colour masks not only add pigment to the hair to boost the colour, they also intensely nourish and condition the hair with natural ingredients, like shea butter and coconut oil. Bright, shiny and healthy hair guaranteed!