Login
Log in if you are a member of The Insiders with an account.
Dont have an account? Register
RESCUE YOUR SUMMER HAIR
14 Sep 2021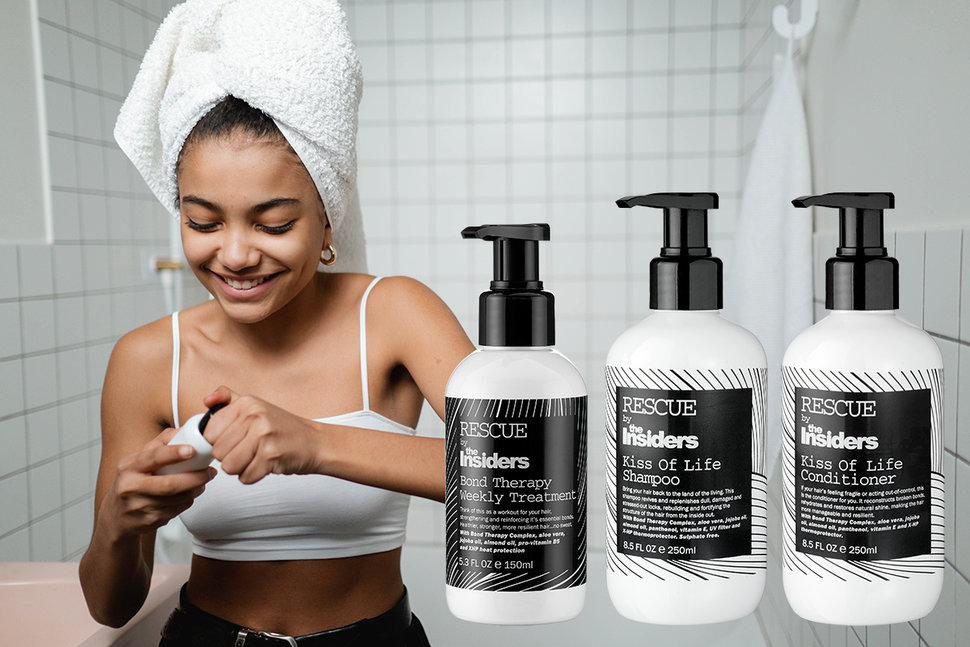 Chances are the summer season left your hair stressed, dry and out of shape. And while your agenda is getting busier now that we're crawling towards fall, we're guessing your hair is not getting the nourishing care that it craves. Long story short; your hair needs professional care and you need easy-to-use products. Therefore, we created the "workout" for your hair – but without the effort. While you take some much deserved me-time, your hair gets back into shape with an intense repair treatment.
The Bond Therapy Complex
Damaged hair means broken bonds; different factors such as the sun and sea can break the bonds that make your hair glossy and strong. Luckily, these bonds can be repaired with bond-building treatments, and we have created our own innovative formula; The Bond Therapy Complex by The Insiders. This formula strengthens your hair and reinforces its essential bonds. The sulfur bridges are being repaired trough this treatment which results to healthier, glowing and softer hair. All our RESCUE products contain The Bond Therapy Complex.
Natural Ingredients
We firmly believe in the strength of natural ingredients like Aloe Vera Extract, Vitamin A, Vitamin E, Vitamin C, Heat Protection, Panthenol, Wheat Protein, Almond Oil, Jojoba Oil, UV Filter. 
Every ingredient had its own hair benefits. Some examples are:
Aloe Vera Extract: Treats hair loss, soothes the scalp and conditions the hair.
Vitamin A: Stimulates hair growth.
Vitamin E: Prevents hair loss and the vitamin's antioxidant properties help reduce oxidative stress in the scalp.
Vitamin C: Promotes hair health, reduces hair loss and improves hair growth.
Wheat Protein: Moisturizes and strengthens your hair.
Almond Oil: Almond oil is an emollient, meaning it can fill in gaps in your hair at a cellular level. This makes your hair feel smoother.
Jojoba Oil: This oil can also moisturize the scalp and may be a dandruff remedy.
Heat Protection: Prevents heat damage.
UV-Filter: Works like sunnies for your hair.
Kiss Of Life Routine
Time for action! All products in the RESCUE collection contain our 'Bond Therapy Complex' that restores the essential bonds deep in your hair shafts. The products allow you to repair your hair in 3 simple steps, professionally and from the comfort of your own home. They are free from sulphates, silicones, SLES, SLS, parabens and mineral oils, meaning that they're utterly gentle and suitable for each hair type, no matter how fragile and damaged it is. Here's how to give your hair the workout it needs:
Step 1: RESCUE Bond Therapy Weekly Treatment
Step 2: RESCUE Kiss Of Life Shampoo
Step 3: RESCUE Kiss Of Life Conditioner
PS. If you order the RESCUE Shampoo + Conditioner now, you get the Rescue Bond Therapy Weekly Treatment from us for free.