Login
Log in if you are a member of The Insiders with an account.
Dont have an account? Register
Effortlessly achieve a beach effect in your hair with a Beach Spray!
09 Aug 2023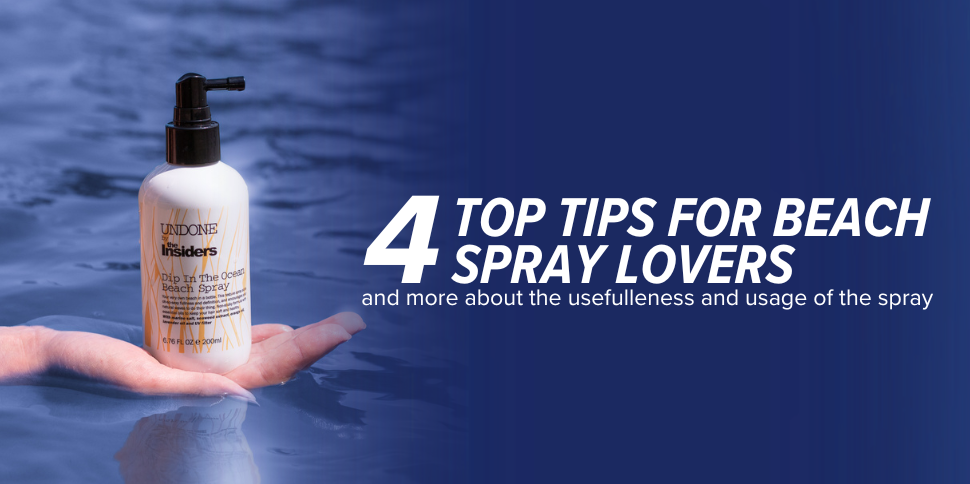 Do you dream of those carefree 'beach waves' that give your hair a relaxed and summery look? With a good Beach Spray or Salt Spray you can effortlessly achieve that wonderful casual beach effect! In this blog we not only share the usefulness and correct use of a Beach Spray, but we also give a few top tips to style your hair perfectly with this product.
The usefulness of Beach Spray
First of all, let's look at the difference between a Beach Spray and a Salt Spray. A Beach Spray often (but not always) has several caring ingredients in the formula. As a result, your hair does not dry quickly and it also feels good and healthy after rinsing. This is usually less the case with a Salt Spray, but it can give you extra firmness. So pay close attention to your preference when purchasing your product.
Beach spray is designed to give your hair that relaxed and tousled look that you would normally only get on the beach. The main ingredient in this spray is sea salt, which gives your hair texture and volume. Added essential oils keep your hair soft and healthy.
Another big advantage is that a look created by using a Beach Spray reduces heat from styling tools, such as a curling iron. This way you damage your hair less. Very nice if you like healthy hair! If you plan on putting your hair up or braiding it, a good Beach Spray will help add more hold and texture to your hair. Your look will last longer.
Marcel, one of our hair stylists from the Insiders co-creation team, was at the basis of our Dip in the Ocean Beach Spray and would like to give you 4 top tips for the correct use:
Start on damp hair: Comb your hair through to remove tangles before you begin. Apply the Beach Spray to slightly damp hair so that the product is evenly distributed. If you have a slightly oilier scalp, avoid spraying at the roots of your hair.
Spray in moderation: Less is more! Start with a few sprays and add more as needed. Too much spray can weigh your hair down and give it an unwanted or "crunchy" texture. So try out how many sprays work best for your hair.
Squeeze and Scrunch: To create that real beach effect, gently scrunch your hair as you apply the spray. So scrunch your hair to get more texture and volume before you start (air) drying.
Use a diffuser: You can let your hair air dry while occasionally squeezing your hair to give it extra texture. But if you have a hair dryer with a diffuser, you can speed up the drying process and enhance the effect. The diffuser will define your hair better and give your hair a natural look with more volume.
To prevent is better than to cure
Here are some tips for optimal hair health if you use a Beach Spray:
Avoid the scalp: Do not apply the spray directly to the scalp, as the salt could irritate and dry out the scalp.
Overuse: Do not use Beach Spray every day, as too much sea salt can dry out and damage your hair. Limit usage to a few times a week. However, this is not the case with the

Dip in the Ocean Beach Spray

, as the oils and the UV filter ensure a good moisture balance and optimal hydration.
Protect color-treated hair: If you have color-treated hair, be careful not to use too much Beach Spray as it can fade the color. This strongly depends on the type of Beach Spray and the color in the hair. If you do get addicted to your Beach Spray, make sure you use a Color Safe shampoo.
Be careful with very dry hair: Do you have very dry hair? Then use Beach Spray in moderation and add a leave-in conditioner anyway to keep the moisture content in balance. You can very well use it in combination with the

My Hero Wonder Spray

.
Marcel's conclusion
"It is important to remember that the results of using a Beach Spray can vary depending on your hair type and the specific ingredients in the product.
Some people may find that certain Beach Sprays dry out their hair, while others are really fans of them. Therefore, always read the product information, ingredient list and customer reviews before purchasing a product, otherwise test it on a small section of your hair to see how it reacts before applying it to your entire hair. All in all, a Beach Spray is a fantastic product once you find the right one."
Enjoy your summer look!