Login
Log in if you are a member of The Insiders with an account.
Dont have an account? Register
Discover Super Volume with a protein cream!
19 Jul 2023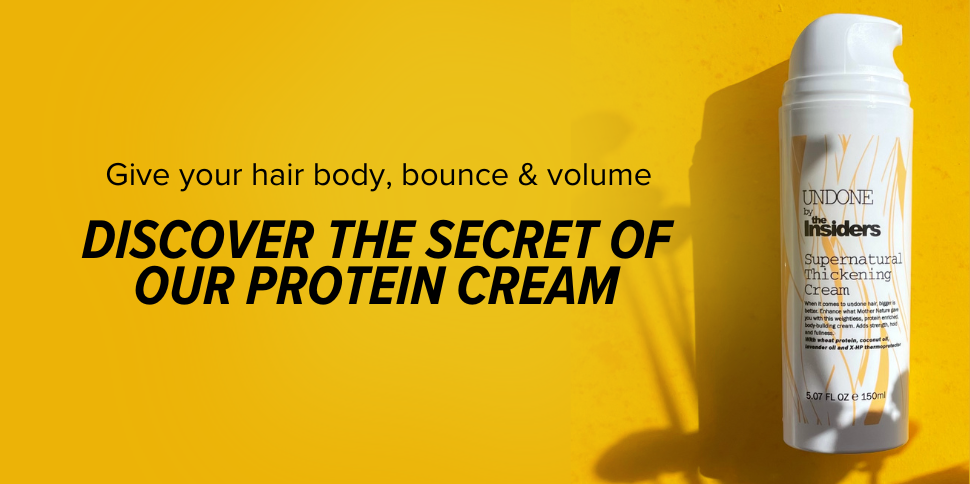 We all dream of voluminous hair that effortlessly moves and makes a statement. Achieving that lush look, however, can be challenging, especially if your hair is naturally fine or lacklustre. But fear not, because there is a secret weapon that can take your hair transformation to unprecedented heights: protein cream. This powerful haircare formula is packed with benefits that provide body, resilience, volume, and a stunning end result.
Protein cream is like a fitness routine for your hair. It provides the necessary strength and structure, giving it a body-building effect. The proteins in the cream deeply penetrate the hair shaft, fortifying each strand from within. Your hair feels fuller and gains a resilient texture that you can proudly flaunt.
This cream also grants your hair resilience, making it more resistant to breakage, damage, and frizz. It acts as a protective shield, leaving your locks looking healthier and stronger. With added heat protection, you can rest assured that your hair is optimally shielded.
It is perfect for creating ample volume in your hair if you desire. Moreover, it creates a lifting effect at the roots, making your hair appear fuller and more voluminous. Say goodbye to flat, lifeless hair and hello to breathtaking volume that boosts your confidence.
Protein cream is also your secret weapon for creating other fantastic hairstyles. This versatile cream, as mentioned before, provides volume, grip, and texture, making your hair more manageable and easier to style. So, whether you want a voluminous updo, wavy locks, or a sleek ponytail, protein cream offers the necessary support for any desired hairstyle.
In conclusion, with protein cream in your haircare routine, you create a dynamic transformation. Your hair gains body, resilience, volume, and the perfect foundation for any hairstyle you want to rock. It is the ultimate ally for those dreaming of beautifully voluminous hair. So embark on an adventure and embrace the power of protein cream to elevate your hair to new heights.
Check out our protein cream, the Supernatural Thickening Cream, with the delightful scent of Lush Lavender, a blend of orange and lavender oils. It includes heat protection and is free from sulphates, silicones, SLES, SLS, parabens, and mineral oils. Prepare yourself for a world where your hair becomes your best accessory, ready to tackle any styling challenge with ease.