Login
Log in if you are a member of The Insiders with an account.
Dont have an account? Register
Transform thin hair with dry shampoo… your secret weapon for volume
26 Jul 2023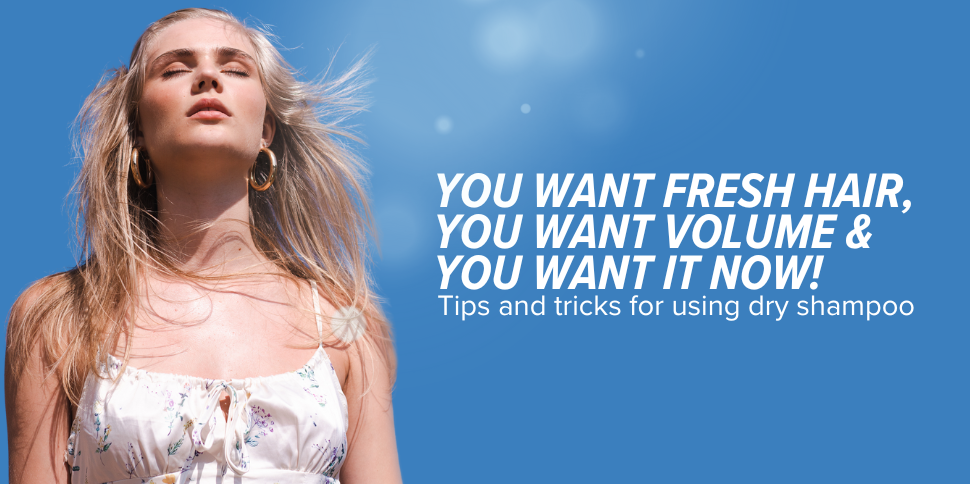 You want fresh hair. You want volume. And you want it now!
Do you have thin hair that you would like to give a little more volume? Look no further! In this blog you will discover how you can transform thin hair and create volume using a dry shampoo. We are sharing some creative tips and will reveal why dry shampoo is such a great product for thin and thinning hair.
Dry shampoo is a versatile hair product that has revolutionized how we give out hair volume and care for it. However the latter may not be well known, it can really offer a perfect solution for thin hair. Dry shampoo is a powdered spray that absorbs sebum and oil. This makes the hair look fresher without having to wash it.
Tips and tricks for using dry shampoo
Adding volume to thin hair can be a challenge, but the right dry shampoo makes it easy for you. Here are some tips to get the most out of your dry shampoo and create voluminous hair:
After applying dry shampoo, you can add volume and texture to your hair by turning your head upside down and running your fingers through your hair. This gives a cool effect and provides extra volume and an Undone
Spray a little dry shampoo at the roots of your hair and massage it in gently. By standing about 10 centimeters away, you can spray the dry shampoo on those areas that need the most volume, making your hair immediately appear fuller and thicker.
If you have thin hair, consider using a dry shampoo on the lengths and ends as well. This way you create volume throughout the hair and at the same time ensure a clean and fresh effect. Try to figure out what amount to use for maximum volume effect.
By using dry shampoo, you can extend the time between washes. Frequent washing can make thinning hair limp, while dry shampoo keeps hair fresh and voluminous. The Hustler Texturizing Dry Shampoo has both tangerine oil and lavender oil so that your hair does not dry out. Traditional volume products can weigh hair down, but dry shampoo adds volume without making your hair feel heavy. It is a light and effective way to achieve the look of thicker hair.
The shortcut for gorgeous hair in an instant
Dry shampoo is a must for people with thin hair who dream of more volume. The Hustler Texturizing Dry Shampoo is the shortcut for gorgeous hair in an instant! With its absorbent properties and ability to lift the hair at the roots, dry shampoo offers a super simple and creative way to transform your hair. Try these tips that dry shampoo can offer to thin and thinning hair. Good luck!