Login
Log in if you are a member of The Insiders with an account.
Dont have an account? Register
6 Do's and don'ts for dyed hair
09 Mar 2023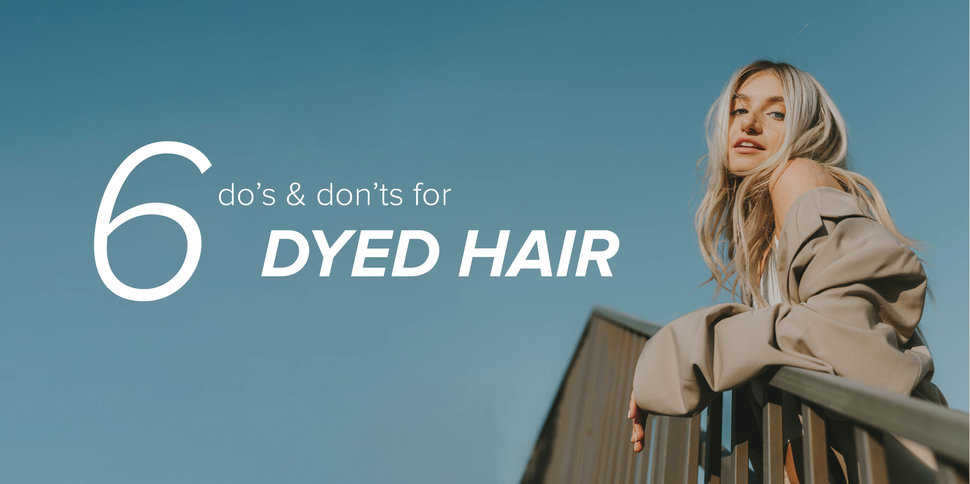 If your hair is dyed, you want to enjoy that beautiful colour for as long as possible. To keep your colour looking vibrant and to keep your healthy, we've got 6 do's and don'ts for you, straight from the experts!
Don't: wash your hair right after getting is dyed
Extend the life of your colour by keeping your hair clear from water for the first 24 hours after getting it dyed. By doing so, you give the cuticles of your hair time to close and to lock in the new pigments. Longlasting colour guaranteed!
Do: wash your hair with cold water
Is it at least 24 hours ago since you've gotten your hair dyed? Great! Then it's safe for you to wash your hair. We know, it's not as comfortable as a steamy, hot shower, but by rinsing your hair with cold water you'll extend the life of your colour. Hot water causes the pigments to disappear faster and we don't want that!
Don't: wash your hair too often
Washing your hair too often is something not only your hair won't thank your for, but your colour as well. Washing your hair is one of the main causes of a fading colour. Of course you can't just stop washing your hair all together, but try to wash your hair not more than three times a week and use colour friendly products. Got greasy hair in between wash sessions? Use a dry shampoo. Our Hustler Texturising Dry Shampoo is a fan favourite because it not only makes your hair appear clean, it also adds body and texture.
Do: use colour friendly products
Okay, we've mentioned them before: colour friendly products. Colour friendly products are mild products that are made to keep your hair colour from fading; products without harsh, aggressive cleaning ingredients that can damage the hair and cause the colour to fade faster. All of our products are colour friendly, so no need to switch out your favourites! If you really want the perfect match for your dyed 'do, the Stay With Me Colour Friendly Colour Saver Shampoo is your go-to. This shampoo contains the unique Colour Saver Complex, which encapsules colour molecules to keep the colour lively for as long as possible.
Don't: use heat tools too often
Not only hot water, but also heat tools can make your colour fade faster. It's best to use them as little as possible. And if you do use a straightener or curling iron, put it on the coolest setting to minimize damage and fading.
Do: give your hair some extra love
Dyed hair, especially when it's bleached first, can use some extra love. Treat your hair to a nourishing hair mask once a week to give it that extra TLC. Is your colour also in need of a little pick me up? Use a colour mask. Our Colour Masks -which come in Beautiful Blonde, Caramel Blonde, Chocolate Brown, Cool Brown and Bright Copper- not only revive your colour, they also intensely nourish and ate the hair with their natural ingredients